BREEZER UPTOWN EX
Our casual cruiser bike is the Breezer Uptown EX bicycle. Their light aluminum frames 8 speeds makes them ready for for roads and trails. Breezers are safe, stable, sure-footed and comfortable. No Reservations Required.
$15 per hour $35 full day  multiple day discount available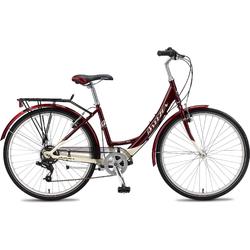 BREEZER LIBERTY HYBRID
Libertys are light, their hydroformed aluminum frames will never rust, and their wide-range gearing mean they are ready for anything. On-road or off-road, Libertys are safe, stable, and sure-footed.
$20/hour  $50/day  multiple day discount available

 FUJI SPORTIF 1
Introduced in 2014 this disc-brake road bike is versatile and a great value. This is the perfect entry level bike to rent or buy if you're just exploring the world of road biking.
$65/day  multiple day discount available

BREEZER INVERSION
Breezer's new road/gravel bike features a seamless, double-butted chromoly D'Fusion frame with a new Breeze Thru-axle dropout and Apex disc brake mount, the Inversion is a truly versatile drop-bar machine. The steel frame provides all-day comfort in the saddle whether you're cruising the back roads with friends, taking on a cyclocross race or grinding out miles of gravel road. The Inversion is here to break down the boundaries of what a "road" bike can be.
$65/day   multiple day discount available
EASY MOTION ELECTRIC BIKES BY BH
We are so excited to be offering rental and sales of e-bikes! These are pedal-assist bikes which allow you to pedal 100% yourself or have assistance as needed. Battery and man powered they have a long range and are so much fun to ride! BH is one of Europe's most prestigious bicycle makers and it shows in these beautiful bikes, which look and feel just like a regular bike.
$100 per day   
 Kids Bikes Available as well as trailers and child seats. Call us for more information.
Uber-bikes:
These are our high-performance bike rentals. Bikes are custom fit for each rider. Including: Scott, Ridley, BH, and Argon 18. Reservations Required.

Uber-bike Rental Rates:
$80-$110 per day. Multiple day rentals for less: delivery charges may apply
Rentals available